Let me preface this with "I'm working off of 3 hrs. sleep here, so this post might suck." Not the good a-Cullen-hottie-is-nibbling-on-your-neck suck, but total suckage as in riddled with errors and stuff that might seem really funny to me at the time but actually makes no sense what-so-ever. Also, the pics of PE came out fuzzy for some reason. I'm blaming lighting, not user error... or crap on the lense. Thx.
One of my all-time fave bands is Nine Inch Nails. I try to never miss a tour. So, I was deeply saddened when Trent Reznor announced that NIN was "going away for a while" and that this would be a farewell tour of sorts. However, to go out with a bang, he invited Jane's Addiction to reunite
again
out on tour with him. The name of the tour would be NIN|JA. Yeah, I thought it was effin clever too! I've never managed to see Jane's Addiction in concert before. Something always came up like lack of funds or them breaking up. Needless to say, I was pretty jazzed at the idea of going to this! Off I run to my laptop and look up potential concert dates. Nothing was really listed, but the local radio station proclaimed that it was stopping in H-town June 3rd. I'm not sure where they got their info from, but I'm thinking it was something along the lines of the Weekly World News. I'm sure that same source also said that Bat Boy and the Echo-location Band was opening. June 3rd they are supposed to be in MA which, last time I looked, is no where near the state of TX. The only date in TX was to be in Austin. Can you say Road Trip? Sure you can! I knew you could.
I'm all for this... until I notice that the concert is on a Tuesday night. This is also when the husband loses any amusement for this idea. I assure him that it will be fine. My NIN concert buddy (FTF) will be going with me and we did just fine driving back from New Orleans on a Sunday night/Monday morning after VooDoo Fest (in October... the last time we saw NIN). Truth be told, we weren't fine. I mean, we got home fine with no probs, but it was 5:30am Monday morning when I pulled into the driveway, got 45 min. sleep and then the husband kicked me out of bed and MADE ME GO TO WORK! He thought it was high-larious. But, Austin's WAY closer than NOLA, so it shouldn't be a big deal, right?
Then FTF bails due to work. OK, I have a back-up friend to go with me. No worries. Fast forward to yesterday. She bails. She has
swine flu
an upper respiratory infection. Fuck. I try everyone I can think of. I mean EVERYONE! Old friends I haven't seen in person since high school, Facebook buddies, even the husband's friends who I don't even know! No takers. Why? Because it's on a stupid Tuesday night... in another stupid town. Eventually, we manage to get my (pregnant) cousin to switch shifts at work and go with me. Yay!!!
We swing by her house after sneaking out of work early, pick her up and come home. I needed a few minutes to change into some appropriate concert attire and to
face paint
give PE a goth-type makeover. He already has the whole angst-emo look going, so he really only needed some white foundation and guy-liner (yeah, I know he's already supposed to be
pale
, but come on. Seriously? I'm whiter than this guy. OK, maybe I shouldn't admit that I blind planes with my skin as they pass overhead).
Me, my cuz and PE ready for the road trip!
Two hours later, we get to the venue (along with every other drunk 18 yr old douche that saw a NIN or JA t-shirt in Hot Topic and thought it was cool).
SIDE:

Ya know, "douche" is a great word. Try to use it more often in everyday conversation. It's not hard and rolls off the tongue easily.
I pick my tickets up from Will-Call and head in. I need to mention that the tickets are pretty sweet. They're all shiny/holographic and have my name printed directly on them! We get
violated
padded down and then I have to have my purse searched. Of course, that's where I keep PE.
Purse searcher:
Is that a doll in your purse?
Me:
He's not a doll. He's an action figure!
PE didn't seem to mind. I think he enjoyed the attention. His make-up did look pretty bad-ass. First band up was Street Sweeper Social Party, formally known as just Street Sweeper. I think they added "Social Party" to the name because
SSSC
looks cooler on a t-shirt. For those who don't know (or care), this is Tom Morello's (of Rage Against the Machine) new project. Trust me, no one came to see SSSC. They came to see this:
NIN hit the stage next, which was a complete surprise. I have no idea why I thought Jane's Addiction would come on first. Maybe it's because Perry Farrell needed some time for his pain meds to kick in (he tore his calf muscle the show before this one). Maybe he just wanted to bask in Trent's music-god glory?
I spy with my little eye Perry Farrell
crouching behind the drum kit watching the show.
Honestly, I've never seen a show with such a major over-use of a smoke machine. I guess they were renting it by the hour and decided to make the most of it. I can't believe the paramedics weren't called in to treat the band for inhalation. Soon, people started crowd surfing, as they do. PE thought this looked like fun, so he joined in. It's not like a vampire can get hurt doing this stuff (unlike the rest of us).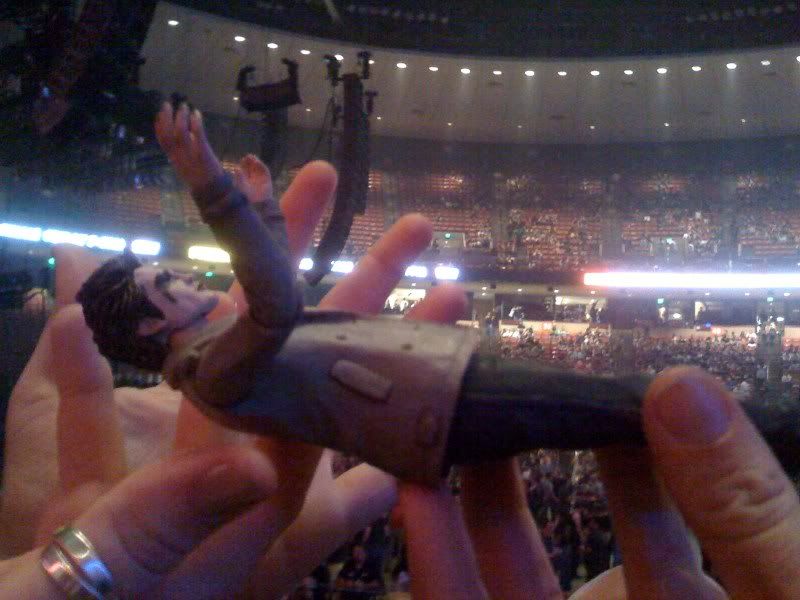 Soon, Jane's Addiction took the stage. Perry Farrell was moving and jumping around pretty darn well for a guy in a walking cast. But, I guess it wasn't good enough for Perry because he ripped it off after the first song and danced around even more. Whatever he's taking, I want some! Dave Navarro was looking especially hot that night. And because I got lucky with awesome seats, we were close enough to read the "CE" on his chiseled, bare chest. Nice. By the end of the show, though, Perry's meds must have been wearing off; he was hopping on his left foot a lot, staying off the right.
By the end of the show, my cuz was asking if I knew of an all-night frozen custard place (Hmmm, cravings. I remember those. Ah, good times). That got me thinking. It's not really a trip to Austin without visiting Amy's (
Freakin' INCREDIBLE
) Ice Cream. Where else can you get awesomely decadent ice cream and hula hoop?
They even gave PE a big honkin' free strawberry-banana smoothie sample when we walked in the door! Since he's a vampire and doesn't eat people food, he generously offered it to us.
The BIG plus is that these cool people play with
dolls
action figures too!
So while PE hung out with his new Austin homies, we indulged in Amy-goodness. If you ever find yourself in Austin (ahem... *cough* JJ *cough* SXSW), you owe it to yourself to swing by Amy's. I highly recommend the Mexican Vanilla with strawberry crush-ins with hot fudge. Exxxxxxcellent.
Oh, and they're open till midnight (another reason why we were there). Perfect for post-binge-drinking sustenance (not that I was drinking last night, I'm just sayin'. This ain't my first trip to Austin!).
Long story short, I rolled in at 2:30 this morning. Then, the husband (who was still up. Honestly, I think he must be part vampire. He lives off very little sleep ALL THE TIME.) filled me in on my son's soccer try-outs. I finally crashed around 3:30, got up at 6:30 and went to work. If it weren't for my ADD meds, there's NO WAY I would have made it through the day conscious. I think I'm going to be forced to face the fact that I am no longer young enough to pull this kind of stuff off. Not yet (at least not while I've got a script for kick-ass stimulants), but soon.